Friday, May 11, 2007
Hot Rod Lincoln
Amazing Grease As Sung By The Retch
The Lock Upon My Garden Gate Is Spume, That's What It Is
FOR IMMEDIATE RELEASE
Contact: The SubGenius Foundation, Inc. 1-216-320-9528
Fax: (216) 320-9528
stang@subgenius.com

CLEVELAND, Ohio, May 11, 2007: The Church of the SubGenius is accusing
the town of Roswell, New Mexico of holding its UFO festival on a date
meant to coincide with Church's own predicted apocalypse.

Since its inception in 1953, Church founder J.R. "Bob" Dobbs has
predicted that a fleet of flying saucers will arrive at the beginning
of July to destroy the worldwide Conspiracy against the Church of the
SubGenius, while all ordained SubGenius ministers will be rescued by
escape vessels piloted by the Alien Sex Goddesses, also known as the
Xists. The expected arrival date for the alien invasion is July 5th,
2007.

Meanwhile, the town of Roswell, New Mexico is holding its Amazing UFO
Festival to celebrate the 60th anniversary of the "Roswell UFO
Incident" that took place in 1947. The date of this festival: July
5th, 2007.

The SubGenius cult is inviting all of its members worldwide to gather
together for the final hours in Sherman, New York from Wednesday, July
4 to Sunday, July 8, at a clothing-optional outdoor campground called
Brushwood Folklore Center. The first gathering at this compound took
place in 1996, and the event has increased in size and participants
each following year. 1998 was designated the first true "X-Day," and
each successive year has added one to the total. This year's
celebration in 2007 is X-Day 10, or X-Day X.

Roswell's festival is being heavily promoted, and it is expected to
draw a crowd of nearly 50,000 visitors. The festival promotes itself
as being family-friendly, and noted UFO researchers and conspiracy
theorists are expected to attend. Parades, costumes, and carnival
rides are planned, along with costumes and commercial events.

The SubGenius X-Day event, in contrast, is definitely an adults-only
gathering, with nudity and profanity in abundance. The event will
feature underground bands, indie rockers, performance artists, and
performers and producers from the adult entertainment industry,
because sexual freedom has been an important part of Church doctrine
from the start. X-Day will be a celebration of free expression,
performance art, rock and roll, pornography, and adult entertainment.
Only ordained ministers of the Church of the SubGenius are allowed at
the event, but the Church is accepting memberships at its standard
rate of $30 up until the final hours of July 4.

Rev. Modemac, one of the X-Day festival's organizers, stated, "Of
course, you can't copyright or trademark the date of July 5th, so
those folks in Roswell are free to hold their celebration on any day
they choose. However, the original Roswell incident took place on
July 8th, not July 5th. So obviously they chose the date of July 5th
in order to imitate us."

He further went on to state, "They're celebrating the 60th anniversary
of a crashed weather balloon. We're preparing for the real thing."

The Church of the SubGenius has been no stranger to controversy since
its foundation, and the upcoming X-Day celebration promises to be no
different. In the late 1980s, members of the Church were accused of
spreading a virus in Macintosh computers known as the "Peace Virus."
Numerous articles have been written on the Church in such noteworthy
publications as the New York Times, Washington Post, Wired Online,
Boston Globe, U.S. News and World Report; and broadcast reports have
been produced by CNN and NPR. In April 1999, officials of the city of
Cambridge, Massachusetts shut down an official SubGenius Devival
gathering in the belief that the Church was affiliated with the
Trenchcoat Mafia (the organization blamed for the Columbine high
school shootings), though authorities later realized the association
was mistaken. In its January 1, 2000 issue, a Time magazine poll
declared J.R. "Bob" Dobbs the biggest fraud of the 20th century.

The Church received additional media attention in 2006 when one of its
high-ranking members, known in SubGenius circles as Reverend Mary
Magdalen, became involved in a legal battle for custody of her son due
to her membership in the Church. This case has been covered in such
popular online sites as Boing Boing, Fark, and Wikinews (Wikipedia's
news reporting service). Reverend Magdalen is being represented by the
law firm of Lipsitz Green Fahringer Roll Salisbury & Cambria, LLP.

Detailed information about X-Day can be found on the World Wide Web at
the X-Day Web site:

http://www.modemac.com/x-day

The official home page of the Church of the SubGenius can be found at:

http://www.subgenius.com

Reverend Mary Magdalen's custody case:

http://www.modemac.com/wiki/Reverend_Magdalen

Roswell's Amazing UFO Festival:

http://www.roswellufofestival.com

Photographers, entertainers, production companies, radio broadcasters,
and all media producers are encouraged to contact Rev. Ivan Stang at
the Church's Cleveland, Ohio headquarters at 1-216-320-9528.

Jesus Camp
A guy at work tipped me off about "Jesus Camp".



Whenever I think I should give Christians a break, they go and do something wrong.

"Let it wriggle"
Not Hammer Time
Thursday, May 10, 2007
Jane's Starships of the Alpha Quadrant
footbang
Tuesday, May 08, 2007
Chicken Thinker
meme dun gud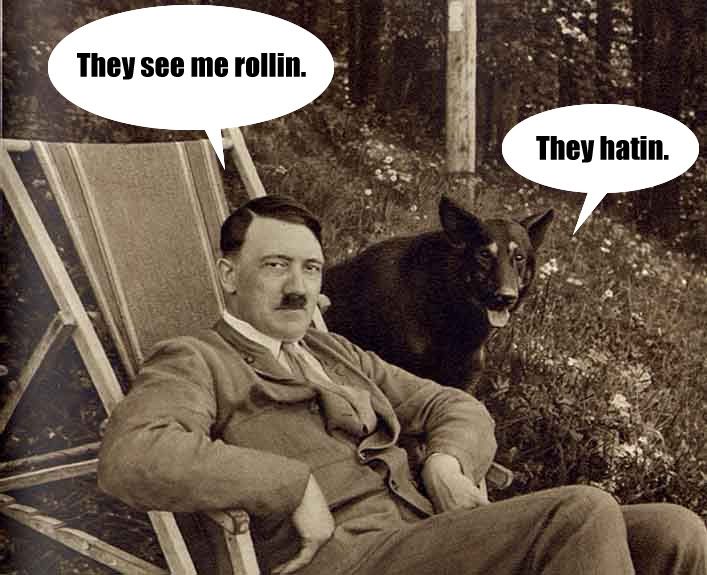 Looks like Darwin at work ...


... but apparently, this snake's been defanged.

Monday, May 07, 2007
Becoming Overman
The Devil Is A Dick
Erm, what?
(full version
here
. might have to fiddle around a little to get it to show in all its horrible glory. Pressing return in the URL box of Firefox works.)
Perversions
W1N!!1!!!!
Sunday, May 06, 2007
Peehole Spiders
Aggro Rev Stang In London, In Prince Video
Throw Another Agonizing Death On The Barbie